Northeast Florida and Jacksonville's premier Architect, Mark Macco, AIA, NCARB, creates innovative and sustainable design solutions for commercial and high-end residential buildings
Mark Macco Architects (MMA) is a full service, Jacksonville based architectural firm...
Mark Macco, AIA, NCARB
Jacksonville, Florida Architect
Stunning Commercial Spaces and Custom Homes
Are you looking for an innovative and inspired Architect for your next commercial project or custom home? Call Mark Macco Architects at 904.249.ARCH (2724) to find out more about our purposeful and sustainable design solutions, our award-winning architecture, and our customer-focused work ethic.
Latest Projects
This contemporary beach home possesses clean lines and purposeful design that frames serene vistas of the Atlantic Ocean. The elegant simplicity of the building, nestled in the dunes, celebrates the coastal environment and works...

read more

This home illustrates that all the elements - space, lighting, design, and materials - work in harmony to create a total contemporary beach lifestyle experience. Impressive architectural features is a beautiful stone wall that...

read more

It is a contemporary look with elements of classic prairie-style architecture. The horizontal nature of the building is broken up by the shifting roof heights and different building materials. For example, the entry is...

read more

When executed properly, Mediterranean style is stunning. This home's proportion, purpose, and mix of contemporary design elements blended with rich details make it an architectural success. Classical stone columns and elegantly crafted stone tiles...

read more
The Big Picture

Mark Macco Architects is a full-service, Jacksonville-based architectural firm that offers comprehensive and practical designs for innovative commercial and residential buildings.  As one of Jacksonville's most accomplished commercial and residential Architects and custom building designers, Mark Macco has made significant contributions to Northeast Florida's upscale communities with his innovative, sustainable and practical designs. Mark Macco Architects delivers outstanding results for each client: on time and on budget. Experience the Mark Macco difference -- call 904.249.ARCH (2724) today to begin the journey to the home or office of your dreams.
Commercial
Multi-family
Mixed-Use
Hospitality
Aviation, including Terminal and Hanger Design
Single Family Residential
Interior Architecture
Oceanfront, high wind borne debris zone expertise
Veterinary Center
Animal Shelter
Site Evaluation
Building Information Modeling (BIM)
All phases of the design process including; Programming, Schematic Design, Design Development, Construction Documents, and Construction Administration
Every few years, there's a shift in the nature of architecture. After the recent economic recession, we're seeing the same phenomenon " a shift from the oversized, overbuilt, and overly fussy homes of the past decade or so to a more streamlined and purposeful aesthetic. The trend in design these days is toward simplicity, elegance, and sustainability. Homes are smarter, smaller and simpler " all without sacrificing beauty and comfort. Improved energy efficiency isn't just good for the back to nature crowd; it's the right and reasonable approach for every homeowner. At Mark Macco Architects, we strive for intentional and thoughtful design solutions. We approach each project holistically by looking for locally sourced components and materials; by thinking about architecture that is appropriate and ecological; and by working in harmony with nature. We take full advantage of natural vistas, we embrace the environment and site-specific features. We work hard to ensure our project enhance their communities and neighborhoods. At Mark Macco Architects, we strive to make our designs Cohesive, Consistent and Coherent. We firmly believe that good design doesn't have to cost a lot of money" it just has to be well-considered.
Collaborate!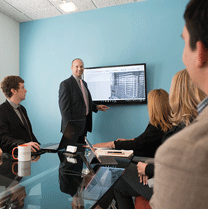 Mark Macco Architects works with an impressive list of partners to bring you a team that is scale-able to meet any size project