"If we make the client, concept and the journey the most important elements of our design process, then the outcome will always be an elegant design solution.  This is good practice in life, and in Architecture." Mark Macco, AIA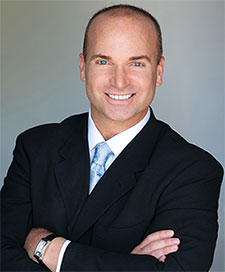 Mark Macco, AIA, NCARB, Architect/President
Mark Macco, AIA, NCARB, an innovative Architect based in Jacksonville, Florida, has more than two decades of experience designing high-end residential and commercial projects, managing them efficiently from inception to completion. Mark is best known for his passion for perfection, his eye for detail, and his penchant for collaborating with his clients to create memorable and purposeful structures. Mark's expansive portfolio demonstrates his ability to develop varied, custom design solutions. He is equally comfortable creating an oceanfront residential masterpiece, a veterinary hospital and boarding facility, a series of multi-family luxury townhomes, or aviation projects. While one of northeast Florida's premier architects, Mark's projects span the Country.
Mark takes a holistic approach to design, and he places great emphasis on a purposeful procession through space. He believes in thoughtful repetition of design elements, in intentional points of interest, and the power of precise sight lines, giving the eye a beautiful place to rest at every turn. He uses his design skills to evoke an emotional response, creating spaces that are warm, inviting, and serene. "I make sure all the elements - space, lighting, design, and materials - work in harmony to create a total experience" Mark says. "I believe good design should be cohesive, consistent, and coherent."
In addition to his great sense of aesthetics, Mark places enormous emphasis on sustainability and efficiency in all his design projects. Mark stays perfectly on trend with his work and understands profoundly that the essence of good design is a marriage of simplicity and elegance. "Each project is different and that is how I approach my work" Mark says. "But what doesn't change is my devotion to customer service. My job is to listen to my clients, to get to know them and understand how they live and what they need. People want to be heard." It is this client-centric focus that enables Mark to produce dramatic yet purposeful design solutions. "Our philosophy is simple" Mark says. "Satisfy our customers completely -mind, body and soul."
---
Jill Weisblatt, Director of Business Development and Administrative Management
Jill works with home owners, developers and industry liaisons as the firm's Director of Business Development and Administrative Management. She enjoys, developing relationships and strategizing with industry professionals and their companies in a desire to increase collaboration on existing and future projects.
Jill holds a bachelor's degree from Miami University in K-12 Music Education as well as master's Degree from The Ohio State University in Educational Policy and Leadership. Jill moved to Florida from Cleveland, Ohio with her husband and 2 children in 2008.   She plays on several area tennis teams and is currently the Chorus Manager and a member of the Jacksonville Symphony Chorus.
Jill is an active member of Urban Land Institute North Florida.
---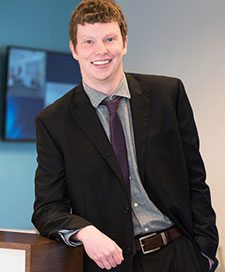 Eric Berquist, Intern Architect
Eric received an undergraduate degree in Architecture from the University of Illinois Urbana-Champaign (UIUC) prior to completing a Master of Architecture at the Savannah College of Art and Design (SCAD). After two years in Savannah, Eric decided to make the South his home and joined us in Jacksonville Beach.
Eric has developed a unique combination of design skills and sensibilities through his school, work, and travel experiences. He interned at an architecture firm in downtown Chicago, a city that is known to be home to some of the best architecture in the Country, and while at SCAD travelled to Hong Kong to participatein a month long "architectural immersion" program. Eric also spent a year in France studying at the École Nationale Supérieure D'architecture de Versailles. In addition to these programs, he has been involved with AIAS attending conventions and conferences in New Orleans, Chicago, and Atlanta.
Outside of architecture he enjoys sports, particularly basketball, as well as hiking, swimming, and other outdoor activities.
---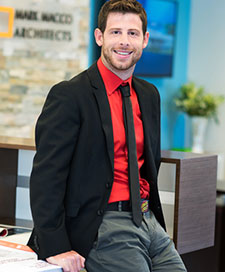 Collin Spelts, Intern Architect
Collin Spelts brings a wide array of unique experience to our team. Prior to joining us in Florida, Collin spent the previous 5 years working on international projects with innovative firms like Zaha Hadid Architects.
After graduating from the University of Nebraska, Collin contributed to a high profile cultural center in Changsha, Hunan, China. The 3-building campus project includes an opera house, a museum, and a multi-purpose hall. In addition to the cultural center, Collin played a lead role on the design of a shopping mall near Beijing.
Although Collin has traveled the world, he is drawn to the Jacksonville Beaches. He is fond of the city's down to earth charm, friendly residents, and outdoor activities like surfing, skating, and hiking and exploring the northeast Florida landscapes.
Collin appreciates both complex contemporary designs and simple traditional architecture. He has a strong curiosity about the building process and is studying for his architectural license. Currently Collin is contributing to several commercial and residential projects at our firm in various stages of their design.
---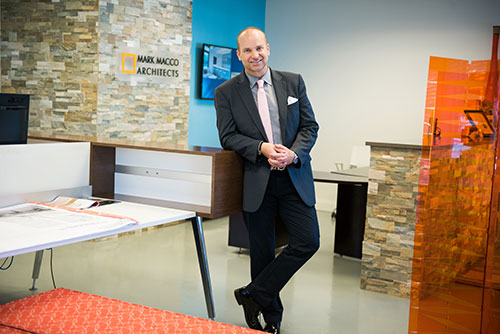 Industry Partners
Mark Macco Architects works the industry's top MEP, Structural, and Electrical Engineers. Our consultant partners also include industry's top Contractors, Builders, Land Planners and Interior Designers.  Each of them share our commitment to providing the results you want with the timelines and cost-effectiveness you deserve.